A few client comments about our service - call us and find out more
Sunseeker Germany
Sunseeker Germany has been working with Universal Maritime for the last two years. In particular in 2015 they arranged delivery of 5 new Sunseekers to and from the Düsseldorf boat show.
I have found their knowledge and experience of the marine industry puts them in a position to ensure our yachts get the best possible care, and their organisation and professionalism before, during and after the delivery makes the process feel very easy and reassuring for us and our clients.
Many thanks!
Knut Schaefer - Director Sunseeker Germany GmbH

---
Princess Motor Yacht Sales
We have worked with Universal Maritime over the last 10 years. They have become without doubt, an intrinsic part of our operations helping us transport our yachts throughout the UK and Europe.
Over the years, our two companies have developed a strong partnership - and it's one based on trust, both in their capability and their integrity.
They understand the complexities of yacht movement, providing qualified crew, compliance with current legislations, aspects of health and safety, registration, insurance and the minute level of detail that's needed for moving yachts of such high value. We know at any time, we can simply pick up the phone to them, and the work will be done to our own exacting standards.
We continue to be impressed by the service they provide and would recommend them without question to others in our industry
Colin Capewell - Managing Director

Sunseeker International
"We have used Universal Maritime for many years now for delivery of some of our boats to Southampton, Antwerp, Rotterdam, to the Mediterranean, Gibraltar, Spain, France, Italy and for Export to the Channel Islands.
They have always been very professional, deliver the boats on time even when there are weather problems, night and day to get the job done"
Mark Garside
Transport Manager
Sunseeker International Ltd.

---
We moved an Aicon 56 Motor Yacht from Sicily to Genoa last September/October for Mr Chris Miseresky who wrote:-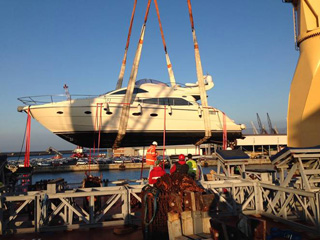 "Thank you for your assistance in repositioning my yacht from Palmero to Genoa prior to shipping to the US, I couldn't be more happy with the professionalism of your captain, constant updates on the voyage, and the way Captain Andrew and the team handled the multiple issues on arrival that the pre-sale survey missed such as missing life raft, broken radar, etc… These items were not his responsibility and really should have been handled by the local representative yet Andy took it upon himself to resolve these issues and deliver on time and within the quoted cost. Out of all the vendors I dealt with in this purchase, your company shines as the most pleasing experience."
---
The following was sent from Mr Nigel Spork who had a Fleming 65 that we assisted him to
transfer his Motor yacht from Gothenburg to Zebrugge last September/October: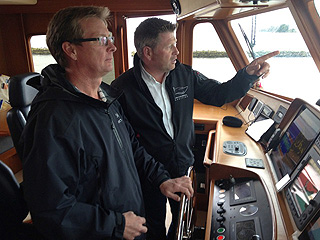 "Dear Giles,
We want to very much thank you for the services provided by Universal Maritime for our two week Journey from Fredrikstad, Norway to Zeebrugge, Belgium in October.
I was a little nervous how the trip would pan out with another Skipper on board however we were absolutely delighted with the two Captains, Stuart Dawson and Ben Keen. They were both very competent, reliable, experienced professionals. All navigation and sailing decisions they made were conservative, safe and considered all of the people on board including some of our less salty guests. They were both great with our kids, especially Stuart who did a sterling job turning them into Able Sea Cadets!
More to the point, both Stuart and Ben were great fun, we very much enjoyed their company and ended up good friends with many sea tales told.
Having professional Captains took out all of the worry about the specifics of navigation in unfamiliar waterways, in different languages and in situations we hadn't experienced like the German locks. While underway, we shamelessly took the opportunity to further improve our seamanship from such capable teachers and very much enjoyed the experience.
To tour Europe in your own boat, in your own bed, and wake up under a Castle or a Fort or a Windmill was something truly special. Natasha took great delight in provisioning us with fresh baked bread rolls for breakfast and pastries for morning tea almost daily! It was for us a trip of a lifetime and something we will really treasure.
Our only regret, with so much to see, was that it was all over too soon. Again thanks, what a wonderful time we had.
Nigel & Natasha Spork
"North West"
Fleming 65
Brisbane, Australia"
---