Amanda (Mandy) Dale Keen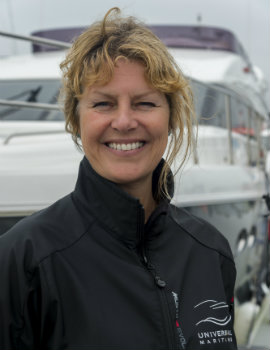 In the late 70's early 80's my husband John, and I, had a business in Mallorca undertaking repairs/fiber glassing. This was the beginning of my love affair with the sea....
As a family with two boys we have owned and sailed boats for over 30 years, predominantly on the South coast of England, followed by many more in the Med.
As our sons grew older, we changed to racing dinghies in Salcombe, helping weekly with the young cadets and many hours of rescue boat duties. At one point we had four dinghies in the family (one each!), racing against each other in the National Championships.

Since 2000 we have spent many years either living aboard or cruising on our Sparkman & Stephens 42' sloop, Avance, refitting & restoring her. We still love and own this boat today. Following 10 years in the Med, we saw fitting to bring the boat home to Salcombe, in time for the arrival of our first grandchild. Whenever we have spare time, we can be found cruising along the beautiful South West Coast.

I have sailed with my husband, John, for 30 + years and over the last 6 years I have joined him on deliveries.
RYA Yacht Master Theory.